Horses were always a great companion to man and in the history of art this noble and elegant animal highlighted their owner´s class, status and power. 
We exclusively dedicate to modern equestrian art and carefully select the best professional artists for you. Classic or contemporary images of horses add to your interiors a beautiful symbol of abundance and stability.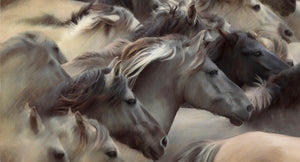 Artworks
Available to purchase
Choose paintings, drawings, sculptures and fine art photography from best international equestrian artists.
view
Press
Media publications about us
How to start your art collection
The process of building one's own collection produces inside of us a desire to learn more about the topic, to comprehend its history, and to make new discoveries. Being an art collector enriches our spiritual and intellectual lives.
read article
Exclusive
Advertising campaign for bank HSBC
We are thrilled and delighted to announce that some amazing watercolors by our talented author Carlota Sarvise were selected for the exclusive advertising campaign for bank HSBC in Argentina.
We partnered with the main sponsor for the Palermo Open Championship, the best international event for the sport of kings.
Read article
new collaboration
We are delighted to announce the collaboration with the prestigious global club Royist - a highly bespoke, boutique concierge service, uniquely tailored to your lifestyle needs and personal aspirations. As a boutique lifestyle management service provider, Royist accept applications from a limited number of UHNWIs across the globe.
discover